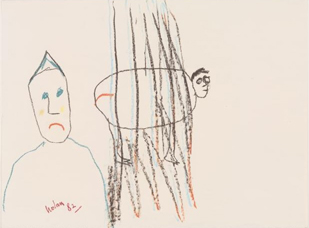 Sidney Nolan's sketch for his diptych "Nightmare" depicting Patrick White and
his companion, Manoly Lascaris

The preliminary sketch for the diptych is possibly even more explicit than the diptych itself.

It depicts a figure with White's features, wearing what looks like an RAF forage cap.

Beside this figure is a large flea-like creature with a slash of crimson on its rear, mirroring the dash of crimson of White's mouth, and with a face unmistakably resembling Manoly Lascaris, White's lover.

(The Manoly figure, which is scored through angrily, appears to be an overt reference to Hieronymus Bosch's painting, "The Garden of Earthly Delights".)

The resulting diptych (painted a day after the sketch, on October 27, 1982) shows on one panel a figure once more resembling White, but this time wearing, not just the RAF forage cap, but a full RAF officer's uniform - the type of uniform White, who had been in RAF intelligence, might have been wearing at the end of the War, when he met Manoly in Alexandria.

The features are wizened, the eyes stare madly, and the mouth is twisted in a paroxysm of repulsiveness.

The other half of the diptych again depicts the flea-like creature, once more with Manoly's features, but this time in full colour, with a background that appears to be excrement. Again, the crimson on the flea's rear is matched to that of White's mouth.

So that there could be no doubt whom it was intended to represent, on the side of the flea's body Nolan painted a Greek crucifix.

Nancy Underhill comments: "The timing of Sidney Nolan doing his Kangaroo series and finding out about Flaws in the Glass is a coincidence, but one Sid would seize upon. So The 'Nightmare' is a combined reference to Nolan's state of shock, Patrick's and Manoly's sex-life, and how Nolan paid people back."

It is not known whether White ever saw the diptych, but he and Nolan never corresponded, spoke or saw each other again.
The final work in Nolan's "Kangaroo series" - the eighth - was painted the day after the "Nightmare" diptych.

Earlier, Nolan had also become interested in Eric Campbell's 1930-32 New Guard - another "Australian icon" - and had already created several works depicting the Sydney Harbour Bridge opening ceremony, where the New Guard's Captain de Groot prematurely cut the ribbon "in the name of the decent and respectable people of New South Wales".

In this final picture of the series, Nolan introduced the image of a kangaroo, presumably to represent the main character in the novel, Benjamin Cooley, the "Kangaroo" of the title.