Scholars and critics concede that D.H. Lawrence based many of his characters on real people, and much of his action on real events. Yet it is rare that we know enough about such "reality" to be able to establish the transformation process: how he turned fact into fiction. However, an incident which occurred one evening in 1916 at the Cafe Royal in London provides such a rare opportunity. Lawrence turned the incident, which he himself did not observe, into the "Gudrun in the Pompadour" chapter in Women in Love.
In real life, Katherine Mansfield was at the Cafe Royal in London, meeting place of the artistic and demi-mondaine, accompanied by Lawrence's Russian friend, S.S. Koteliansky, and the painter, Mark Gertler. Overhearing some Indian academics ridiculing D.H. Lawrence's recently-published book of poems, Amores, Katherine walked up to their table, asked to see the book, took it and, to the hisses of other diners, marched out of the cafe.
In the novel the character Gudrun was in the Pompadour Cafe in London with her companion, Gerald Crich. Overhearing a group of people at another table deriding a letter that her friend Birkin had written, she walked up to the man who was reading out excerpts from the letter - Halliday, a Bohemian acquaintance of Birkin's. She then asked to see the letter - seized it, and, to the boos of the other diners, marched out of the cafe.
Lawrence learned of the incident not from Katherine Mansfield herself, but from Koteliansky. Katherine and John Middleton Murry had stayed with Lawrence and Frieda during the winter of 1915-16 in Cornwall, where Lawrence was putting the finishing touches to Women in Love. It had been a difficult time and had led to a cooling of the friendship between Lawrence and the Murrys. Lawrence had not heard from Katherine or Murry since this falling-out.
Soon after the incident Koteliansky wrote two letters to Lawrence, describing what Katherine had done. We don't know exactly what Koteliansky said, for the letters have been lost. But we do have Lawrence's reply to Kot, which is dated Monday, September 4, 1916:
My dear Kot,
Both your letters came this morning. Your "Dostoevsky evening" gives me a queer contraction of the heart. It frightens me when I think of London, the Cafe Royal - you actually there, and Katherine - terror overcomes me and I take to my heels, and hide myself in a bush. It is a real feeling of horror. I dare not come to London, for my life.
In his 1978 book about Lawrence's life during World War 1, D.H. Lawrence's Nightmare, Paul Delaney said that the only other known account was in a letter from Gertler to Lady Ottoline Morrell. In 1972, when I was researching my biography of Lady Ottoline Morrell, I came across two further letters which mentioned the incident. I found them in the Ottoline Morrell papers in the Humanities Research Center at the University of Texas at Austin (HRC). One letter was from Aldous Huxley, who was not a first-hand witness. The other letter was from Katherine herself. Regretably, my publishers Chatto & Windus advised me to delete the accounts of the incident from my manuscript (I seem to recall we had trouble getting copyright permission from Mark Gertler's estate, perhaps understandably, for the content of the letter does not cast him in a pretty light).
However, in 1980 Antony Alpers, in The Life of Katherine Mansfield, published all three letters. The addition of the Huxley and Mansfield letters to that of Gertler's provides an opportunity to see how Lawrence assembled the "Gudrun in the Pompadour" chapter.
In his letter to Ottoline (written on 2/9/16 , the day after the incident), Mark Gertler could hardly contain his excitement:
I must write to tell you about a most exciting evening I spent last night with Katherine & Koteliansky. Katherine is a most wonderful woman. I will tell you why. It was my first night in London too after being in Cholesbury. First of all we had a very good dinner at the "Eiffel Tower" then we went on to the Cafe Royal. It was packed hardly a table to be got. At last we found a table with only one person - a coloured man - an Indian perhaps - but a weak type - we hardly noticed him, he asked for tea O. Suddenly, a long thin White Herring of a Woman with a terrific High Bunch of Crimson Hair, Outdoing easily the coloured bushes of hair in the Cafe, both in height & in intensity of colour, came in, was recognised by Our mild Half-cast, met & escorted to the table next us. A few moments later in came another coloured man & joined the other two. We immediately hated all three of them. Soon to our astonishment they began to talk "Intellectually" - they were University Blacks - using "perfect" English very long words carefully chosen. They talked about Dostoevsky, Russia - the new Age, all in a very advanced manner. All this irritated us enough, But imagine our Hatred & Horror when the Red headed piece of dried Dung produced a Volume of Lawrence's poem's & commenced to discuss Lawrence with the other, in this perfect English & carefully picked, long words! We had been ragging them all the time, but now we knew something drastic must be done. We sat & thought. Suddenly, Katherine leant towards them & with a sweet smile said "Will you let me have that Book a moment?" "Certainly" they all beamed back - even more sweetly. Imagine then their horror & utter amazement, when Katherine without a word more, Rose from the table, Book and all, we following most calmly - most calmly we walked out of the Cafe!!! We heard them hiss & make various sounds to try & stop us or have us stopped but every body only stared & no one made the slightest attempt to stop us. So we got away with their book of Lawrence's Poems! What revenge! Outside we simply trembled with excitement. It was indeed a good end.
Although Lawrence almost certainly did not see Gertler's letter to Ottoline1, Koteliansky's "lost" letters describing the incident must have contained very similar material, for Lawrence's fictional version is, as we shall see, quite close to Gertler's (appallingly racist) account. Ottoline's second informant was one of her frequent Garsington guests, the youthful Aldous Huxley. He had heard of the incident from one of the Indian academics who had been involved in the incident, and who was apparently an acquaintance. Huxley wrote to Ottoline:
I met Suhrawardi [sic] to-day, who told me of an odd adventure he'd had last night. He was sitting in the Cafe Royal and happened to be discussing Lawrence's Amores... unfav-ourably...with a friend. He had the book with him. Suddenly Gertler, who with another man and a woman was at the next table, interposed in their conversation, upholding Lawrence, I gather. Finally the young woman asked Suhrawardi to lend her the book, and no sooner was it in her hands than they all swept out of the place and disappeared, in a taxi, into the night...Curious.
This was the sort of gossip Ottoline relished, and she immediately wrote to Katherine to inquire further about it. Katherine was staying in Dorothy Brett's London studio at the time and Ottoline appears to have enclosed both Gertler's and Huxley's letters - or perhaps she transcribed parts of them, for Katherine refers to both letters in her reply.
Dearest Ottoline,
What am I to make of this? Of course if the coloured gentleman with the young party with pink hair was Suhrawardi [sic] then indeed I do know the "reverse of the story'" I am a little hazy about Suhrawardi - was he one of Lawrence's Bing Boys last winter?
At any rate, Huxley's languid letter doesn't tempt me dreadfully to tell him - to satisfy even his "very idlest curiosity" and "merest inquisitiveness" I am afraid I am not young enough to dance to such small piping. Heavens! his letter makes me feel so old - and inclined to dress up, alone in the studio here. Tie my head in a turban, make myself fat, don a fur coat with lace frills slightly spotted with tea, and act Lady Mary Wortley Montagu receiving a morning leg from - Swift, perhaps (played by the charwoman, Mrs Squeeks).
Katherine was due to visit Ottoline the following week, and when she came she brought the incriminating evidence - the stolen copy of Amores (which she later passed on to Dorothy Brett)2. Ottoline, of course, knew all of the participants in the Cafe Royal incident. She had introduced most of them to each other at Garsington, the Oxfordshire manor house where she held artistic and literary court. Indeed, Hasan Shahid Suhrawardy (spelt differently from Huxley's version) had been at Garsington the previous November, in a party that included the Lawrences, Aldous Huxley and Philip Heseltine. Lawrence was one of the major figures in Ottoline's life and knew the Garsington scene very well. He had been a frequent house guest, and had even helped Ottoline paint some of the rooms soon after she had moved there in May 1915. He was also familiar with her other favoured guests, particularly the leading Bloomsburies (Virginia Woolf, Clive and Vanessa Bell, Lytton Strachey) and Bertrand Russell, who was still Ottoline's lover.
But by 1916 relations between Lawrence and the world of Garsington had begun to deteriorate. He had taken a dislike to the Bloomsbury group after visiting Maynard Keynes at Cambridge, describing the Bloomsburies as "black beetles". His friendship and intellectual sympathy with Bertrand Russell had foundered. Lawrence's previous novel, The Rainbow, had recently been suppressed by a London magistrate for alleged indecency. Despite some attempts by Ottoline's husband Liberal MP Philip Morrell and others to have the book published privately, Lawrence convinced himself that their attempts were half-hearted. He was turning against the entire London literary scene. In Cornwall Murry had found Lawrence "a man possessed, now an angel, now a devil...It was pain to see him so transformed and transfigured by the paroxysms of murderous hatred, of his wife, of us, of all mankind...We packed our few possessions and went away to the other side of Cornwall."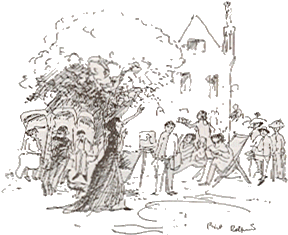 Lawrence was even beginning to turn against Ottoline herself, despite her continuing generosity to him. Frieda, who did not get on well with Ottoline or the Garsington crowd, added poison to Lawrence's reactions, and during their stay Katherine and others apparently plied Lawrence with the malicious gossip they had picked up at Garsington and in London - much of it directed at him. As well, Lawrence's grand plan to go to Florida to start Rananim, his utopian colony of like-minded people (to include Katherine, Murry, Koteliansky, Heseltine - and even Suhrawardy), had fallen through, Lawrence quarrelling with most of them. Now virtually alone in Cornwall, Lawrence brooded over the War and what he regarded as the decline of England. He felt England would be a far better place if only a hundred or so people inhabited the island. He was suffering from what were probably the early stages of tuberculosis and was ill and irritable. Despite the critical success of Sons and Lovers, he was in desperate financial straits. His feelings of the moment were being channelled into his new novel, Women in Love, which he believed was his best work.
At the time of the Cafe Royal incident, he was in the process of typing and revising his handwritten manuscript, as he couldn't afford to pay a typist. Already he had satirised Ottoline in the novel as the vengeful Hermione Roddice. When he learned of the incident at the Cafe Royal he decided to incorporate it. As it turned out, it was just what he needed to help him complete the novel.
The "Gudrun in the Pompadour" chapter begins with Ursula, Gudrun, Gerald Crich and Birkin preparing for their trip to Austria. Gudrun and Gerald finish packing earlier, so they decide to go up to London and spend a night there en route to the continent, where they planned to rendezvous in Innsbruck. In London Gudrun and Gerald decide to call in at the Pompadour Cafe, the centre of Bohemian nightlife:
Gudrun hated the Cafe, yet she always went back to it, as did most of the artists of her acquaintance. She loathed its atmosphere of petty vice and petty jealousy and petty art. Yet she always called in again, when she was in town. It was as if she had to return to this small, slow, central whirlpool of disintegration and dissolution: just give it a look....The old crowd was there, Carlyon with his pupils and his girl, Halliday and Libidnikov and the Pussum -
Overhearing Halliday and his crowd ridiculing a letter in which Birkin had, at some length, postulated his theories - about the need for men to reduce themselves to the original rudimentary conditions of being - Gudrun became increasingly annoyed. Halliday, who was inebriated and hiccupping, read on in "the sing-song, slow, distinct voice of a clergyman reading the Scriptures", sneering at Birkin's ideas. Finally Gudrun could stand no more:
"I want to go," said Gudrun to Gerald, as she signalled the waiter. Her eyes were flashing, her cheeks were flushed. The strange effect of Birkin's letter read aloud in a perfect clerical sing-song, clear and resonant, phrase by phrase, made the blood mount into her head as if she were mad.
She rose, whilst Gerald was paying the bill, and walked over to Halliday's table. They all glanced up at her.
"Excuse me," she said. "Is that a genuine letter you are reading?"
"Oh yes," said Halliday. "Quite genuine."
"May I see?"
Smiling foolishly he handed it to her, as if hypnotised.
"Thank you," she said.
And she turned and walked out of the Cafe with the letter, all down the brilliant room, between the tables, in her measured fashion. It was some moments before anybody realised what was happening. From Halliday's table came half articulate cries, then somebody booed, then all the far end of the place began booing after Gudrun's retreating form.
The incident ends with Gudrun and Crich departing in a taxi, gloating over what had occurred.
It is clear from what we now know about the real events at the Cafe Royal that not only did Lawrence borrow heavily from (what we assume to have been) Kot's description, but that he also used his knowledge of the real-life participants and their milieu to flesh out the episode. Yet he did change some things: instead of Suhrawady he substituted Halliday, whom he based on Philip Heseltine, a minor composer about whom Lawrence had entertained ambivalent feelings, and who had not only been at Garsington but had stayed in Cornwall with the Lawrences in 1915. For many years some people had assumed that Heseltine had himself been at the Cafe Royal that evening. Frieda subscribed to this view, telling Richard Aldington in 1948 that she knew Heseltine had been there that evening, along with his girlfriend, Minnie Lucie Channing, nicknamed the Puma. In a letter to Aldington, Frieda wrote:
As to the Cafe Royal incident, I heard it from Katherine very much as it is in 'Women in Love'. I remember the letter - you remember Heseltine had a 'white love', Juliette, afterwards Julian Huxley's wife, and a dark love Puma who was with us in Cornwall going to have a child by Heseltine...I can't remember who read the letter, I know that Russian [Kot] was there, Bob Nichols was in the war, wasn't he? I don't think Michael Arlen was there - Anyhow Heseltine must have shown that letter..
But Frieda is notoriously vague and unreliable, and she certainly wasn't at the Cafe Royal that night. She even confused the fact that it was a letter, not Amores, that Katherine had snatched.
Heseltine himself always denied that he had been at the Cafe Royal that evening - but he did not deny that he was Halliday in the novel. Quite the contrary. After he read the book he applied to the Purity League to have the novel withdrawn and suppressed. When he failed in this attempt, he threatened a libel suit, and after negotiations, Lawrence's UK publisher, Martin Secker, fobbed him off with a few pounds, and agreed to change the character's name and hair colour in future editions.
The change from the Indian Suhrawardy in real life to the character Halliday was forced on Lawrence. Halliday was already part of the novel, and to introduce a new character based on Suhrawardy, at that late stage, was extraneous and would have confused the narrative. And so he added in the Puma/Pussum (who was almost certainly not at the Cafe Royal that evening either, and is definitely not the "long thin White Herring of a Woman" in Gertler's account - the Puma was quite dark). It also gave Lawrence an opportunity to hark back to Gerald Crich's brief liaison with the Pussum before he knew Gudrun. Gudrun's sudden recognition in the chapter that Gerald had been involved with the Pussum helps build up her realisation that he was naturally promiscuous - a matter that is fleshed out in succeeding chapters. Lawrence also had to change the book of poems into a letter from Birkin, for the good reason that Birkin was not a poet.
On the whole, however, Lawrence didn't make many factual changes to the original incident. Katherine is Gudrun, the Cafe Royal is the Pompadour, her actions are the same. Lawrence claimed to be surprised and hurt when people accused him of basing characters on real people, particularly themselves. Writing to Catherine Carswell, whose barrister husband had "vetted" the manuscript of Women in Love, he maintained:
Halliday is Heseltine, The Pussum is a model known as Puma, and they are taken from life - nobody else at all lifelike
However, Philip Heseltine was not the only person to threaten Lawrence with legal action over their portrayal in Women in Love. Hearing on the gossip grapevine that she had been cast as the "villainess" in the novel, Ottoline insisted on seeing the manuscript, which Lawrence, reluctantly, sent her. On reading it she was aghast - and very angry. She saw herself portrayed in a very unflattering light. Hermione's physical appearance, despite a change in hair colour from red to blond, and a change in age from forties to twenties, was straight Ottoline, as were Hermione's elaborate and exotic hats and dresses. But it wasn't the physical portrait that so upset Ottoline (although she was annoyed at his describing some of Hermione's gowns as soiled and tattered) - it was the way he portrayed her as a bitter, evil, twisted woman. As she read the manuscript she felt herself "going pale with horror, for nothing could have been more vile and obviously spiteful and contemptuous...". Furious, she despatched a letter to Lawrence. The letter has been lost, but Clive Bell, who was at Garsington at the time, mentioned that she had written Lawrence "an incredibly foolish reply...Every line of her letter that I was allowed to hear revealed a wound...".
Philip Morrell threatened to sue Lawrence and reportedly wanted Lawrence's prospective publisher to come to Garsington to see Ottoline for himself to compare her with Hermione. In the event nothing came of the threat, and Ottoline remained Hermione.
Lawrence's obliviousness to other people's sensitivity over seeing themselves, or aspects of themselves, portrayed in his fiction was not reformed by his experiences with Women in Love - in future novels he was to repeat the process. One explanation for his blindness in this area may be that he saw his characters in a different light. In the case of Hermione Roddice, Lawrence had started off basing the character, at first called Ethel, on his first love, Jessie Chambers. When, much later in the evolution of the novel, he recast Ethel in Ottoline's appearance and clothes, and invested her with some of Ottoline's personality, he probably continued to think of the character as partly Jessie, who also embodied the intellectual, unspontaneous type of woman that he wanted to portray. Thus it was that Lawrence would only reluctantly admit to his agent, Pinker, in February 1917: "There is a hint of [Ottoline] in the character of Hermione: but so there is a hint of a million women...Anyway, they could make libel cases for ever, they haven't half a leg to stand on..."
One interesting aspect of all this is to observe the techniques Lawrence used for transferring real-life models into his fiction. One technique was to change their names - but not arbitrarily, for he seemed unable to resist the temptation to leave behind a hint or echo of the original inspiration. For example, Bertrand Russell, who appears in Women in Love as a baronet, is called Malleson, the surname of one of Russell's lovers. Another example is Augustus John who appears at the Pompadour as Carlyon (a play on the name of the style of hat John wore, a Carlyle). The Puma is The Pussum, and so on.
Yet in the case of Hermione Roddice, he hardly changed anything. He merely made minor alterations such as Ottoline's hair colour and age, as well as changing her from being the half-sister of a duke to the daughter of a viscount, and disguising her marital status, a favourite trick of his. (Instead of being married to a Liberal MP, Hermione has a brother, Alexander, who is a Liberal MP.) As the biographer of Ottoline I can attest to the fact that his portrayal of Hermione is extremely perceptive. Yet Lawrence professed surprise that Ottoline wasn't delighted with the pen portrait, claiming that he had made her a more noble figure in the book than she was in real life!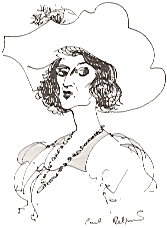 The "Gudrun in the Pompadour" chapter was exactly what Lawrence needed to tighten up the novel's narrative direction, inserting a staging point between the English section of the book and the continental ending. Additionally, it brought the focus back on to Gudrun, who is the main character in the final chapters of the novel. It also allowed Lawrence to tie the earlier part, particularly chapter VI, "Creme de Menthe", which is set in the Pompadour, to the later section of the novel.
But if Kot hadn't written to him about the events at the Cafe Royal, this vital chapter probably would not have been written. And if the other witnesses of the incident had not written their accounts, we would not know how closely Lawrence based his characters and action on an actual event.
Endnotes
1. We can deduce this from the fact that Lawrence, whose letters Ottoline sedulously preserved, did not write back to her.
2. It is interesting to note that Amores (published in July 1916), the book which caused the incident at the Cafe Royal, had been dedicated by Lawrence to Ottoline Morrell, in happier days.