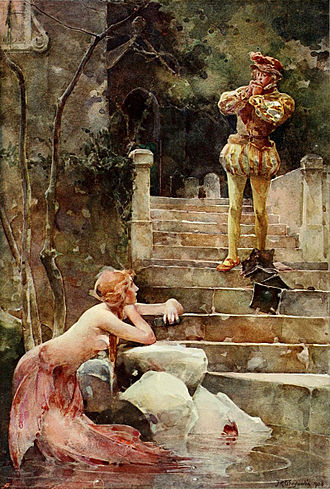 "A TYPICAL CORNISHMAN"
Matthew Trewhella, the chorister of Zennor - pictured above humming a tune - being lured to a watery fate by a seductive mermaid…a famous Cornwall myth commemorated in a church in Zennor which Lawrence knew from his time in Cornwall in 1916-17, and which came to mind when he needed a name for the real-life character Gerald Hum in Sydney in 1922. Hum didn't sing, but choristers do, so in Kangaroo Hum became William James "Jaz" Trewhella. (See Research Notes 6/1/16 for why Hum was "a typical Cornishman".)
THE DH LAWRENCE SOCIETY OF AUSTRALIA has plans for 2016 which will include a lunch and talk in August to mark our now-customary celebration of the date Lawrence left Australia. We will keep you informed by email. If you haven't given us your email address yet, please click HERE.
Our President, Rob Daroch, is busy finishing his book The Nightmare: Lawrence's 100 Days in Australia which will be published shortly and will also become an e-book available on Kindle, Amazon, Barnes & Noble and as Print-on-Demand.
DHLA Secretary, Sandra Darroch and President Rob Darroch have both been invited to present papers at a Lawrence Conference: "Outside England...Far off from the World": DH Lawrence, Cornwall and Regional Modernism. The Conference will be held on September 12-14 near where Lawrence stayed at Higher Tregarthen near Zennor in 1916 .