| | |
| --- | --- |
| | |
To view the current edition of our Journal, Rananim, BELOW.

Membership of the Society is free. Just send us your email address and you wil receive invitations from time-to-time to our events. All are welcome to join and to come to our events and to contribute to our online journal, Rananim.
ISSUES OF RANANIM
(It is advisable to refresh you computer before starting to look at Rananim if you haven't visited the site for a while)
LATEST D.H. LAWRENCE NEWS
New website dedicated to D.H Lawrence's 99 Days
in Australia
WAS D.H. LAWRENCE GAY?

Hidden in Lawrence's Australian novel Kangaroo is a previously unrecognised homosexual encounter.
ROBERT DARROCH explains the significance of Lawrence's "dark god that enters from below". See full article in RANANIM NOVEMBER 2017. Click HERE



____________________________________________________________________________________
IN PREVIOUS RECENT EDITIONS
FEBRUARY 2017 EDITION OF RANANIM
"IN SEARCH OF LAWRENCE'S VILLA IN TAORMINA"
SVENGALI PRESS: NICHE PUBLISHER FOR DH LAWRENCE BOOKS
THE PUBLISHERS

Sandra Jobson (Darroch) Publisher The Svengali Press

Tom Thompson ETT Imprint who produces e-book and Print-on-Demand (POD) versions of Svengali books and publishes his own list

THE UK LAUNCH OF ROBERT DARROCH'S DH LAWRENCE'S 99 DAYS IN AUSTRALIA

"The Curious Incident of the Red Wooden Heart" was the title of Robert Darroch's paper at the International D.H. Lawrence Conference at St Ives, Cornwall, UK, on Monday September 12, 2016.

The UK "soft launch" of Rob's two-volume DH Lawrence's 99 Days in Australia also occurred on September 12.

The incident of the "red wooden heart" which Lawrence had given Frieda when he was first courting her, and then gave it to Benjamin Cooley, "Kangaroo", was, Rob explained to the Conference delegates, a crucial event in the novel.

After the first day's sessions, Conference delegates traveled to Zennor where Lawrence and Frieda had lived in a stone cottage in 1915-16, where Lawrence wrote Women in Love.

Our two photos show Rob Darroch delivering his paper at the Conference, and Rob Darroch outside the Tinners' Ams, the county pub at Zennor in Cornwall where Lawrence and Frieda stayed before they moved into their cottage.

| | |
| --- | --- |
| Robert Darroch at the International D.H. Lawrence Conference | Tinners' Arms |


Robert's book: DH Lawrence's 99 Days in Australia, Vol1, The Quest for Cooley and Vol2: The Silvery Freedom…and the Horrible Paws" is available from Amazon (for Kindle) and Print-on-Demand (POD). Just go to Amazon Books web site and key in ROBERT DARROCH. His book is also available on iTUNES and Barnes & Noble.

BOB CARR LAUNCHES ROBERT DARROCH'S DH LAWRENCE
SECRET ARMY BOOK



Bob Carr (left) and author Robert Darroch (right) at the launch of DH Lawrence's 99 Days in Australia at the NSW State Library

SEE VIDEO OF BOB CARR LAUNCHING DARROCH'S BOOK

FORMER NSW Premier and ex-Australian Foreign Minister Bob Carr, when launching Robert Darroch's new book DH Lawrence's 99 Days in Australia, said: "This carefully-researched work shows how Lawrence became involved with a fascist secret army in Australia in 1922, and demonstrates that his Australian novel Kangaroo is the story of that involvement."

Bob Carr, who officially launched the two volumes of Robert Darroch's book on Thursday August 25, has had a long interest in Lawrence in Australia. In 1993, when Planning Minister in the NSW State Government, he had an Interim Preservation Order placed on Wyewurk, the cottage at Thirroul where Lawrence wrote his 8th major novel, Kangaroo, in a scant 33 days.

"Lawrence had to have got the novel's secret army content at first hand from local sources. He didn't have time to do any research. Darroch's day-by-day reconstruction of his time in Sydney and Thirroul shows that it had to have come from actual secret army leaders in Sydney," Carr said.

Darroch's books, the result of more than 40 year's research into Lawrence's time in Australia, reveals what he calls "the fascist underbelly of Australian society and politics" between the wars. He also describes a homosexual encounter Lawrence had with one of the secret army leaders which led him to repudiate the fascist nature of the organisation he had stumbled into in Sydney – what Lawrence called "the scaly back of the reptile, and the horrible paws".

_________________________________________________________________

The Lost Girl with an Introduction
"How D.H. Lawrence Found his Lost Girl in Cornwall"
by Sandra Jobson

Sandra Jobson (Darroch) delivering her paper at the D.H. Lawrence International Conference at St Ives, Cornwall, UK., on September 14, She spoke about her literary discovery that Lawrence had based part of his character Alvina in his novel The Lost Girl on the New Zealand writer Katherine Mansfield, who had lived next door to him in Cornwall in 1916.

The conference date coincided with the UK launch of the Svengali Press/ETTImprint edition of a reformatted reprint of the original US (1921) edition of The Lost Girl with an Introduction "How D.H. Lawrence Found his Lost Girl in Cornwall" by Sandra Jobson. The book will also be launched in Australia on Sandra's return from the UK, and will be available from Amazon for Print-on-Demand and the Kindle, as well as for tablet-viewing on iTunes.
(See also: D.H. Lawrence & the Sydney Bulletin click HERE)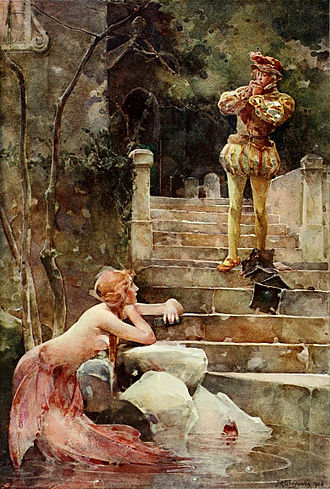 "A TYPICAL CORNISHMAN"
Matthew Trewhella, the chorister of Zennor - pictured above humming a tune - being lured to a watery fate by a seductive mermaid…a famous Cornwall myth commemorated in a church in Zennor which Lawrence knew from his time in Cornwall in 1916-17, and which came to mind when he needed a name for the real-life character Gerald Hum in Sydney in 1922. Hum didn't sing, but choristers do, so in Kangaroo Hum became William James "Jaz" Trewhella. (See Research Notes 6/1/16 for why Hum was "a typical Cornishman".)
OUR VIDEO VENTURE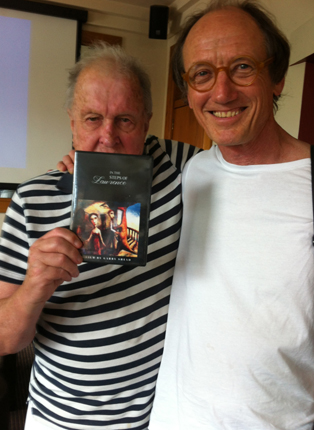 DH Lawrence Society of Australia President,
Rob Darroch, holding up a copy of
artist Garry Shead's DVD
of his film "In the Steps of Lawrence".
Garry's film was a feature at the launch of Rananim Media Enterprises, which the DH Lawrence Society of Australia will manage and distribute DVDs, books, and other Media about Lawrenceand Kangaroo.
To see more about the launch and Garry's film, click here RANANIM NOVEMBER 2014.
(click on the titles)
THE ZOO WHICH INSPIRED LAWRENCE'S POEM "KANGAROO"
92nd Anniversary of
Lawrence's arrival in Sydney
Launch of Robert Darroch's e-book
THE SCALY BACK OF A REPTILE...
Click HERE to read this book and Cick HERE to view the October 2013 edition of Rananim
for a report on the launch and the "True Believers"


A NEW LAWRENCE BOOK: Women in Love: Sexual Experience
and the Struggle with Death, . by ARTHUR EFRON
Literary discovery: Katherine Mansfield's
influence on Lawrence's Lost Girl. by SANDRA DARROCH.
90th Anniversary of DHL's arrival in Sydney
"The House at the End of the Road" - Article by ROBERT WHITELAW about Lawrence's strange excursion to Sydney's Northern beaches the day after he arrived in Sydney
REPORT ON THE 12TH INTERNATIONAL


LAUNCH OF LIT SOC SYD
MATTER OVER MIND: where Lawrence got his inspiration from

HE COULD FEEL SUCH FEAR, IN AUSTRALIA

DH LAWRENCE & DADA